Last Updated on June 27, 2023 by dagan2021
How much does asbestos removal cost in the UK?
Our clients often ask us about the cost of asbestos removal in the UK.
Although we don't actually carry out removal ourselves, we work closely with a couple of specialist asbestos removal companies.
The major factor when it comes to the cost for removal of asbestos in the UK is in the quantity of asbestos to be removed.
There are some ways in which you can easily estimate the cost of  asbestos removal by following these steps:-
Identifying Asbestos
The 1st step you need to take is to identify whether or not there is actually any asbestos present.
For this, you will require a professional asbestos surveyor who will assess the presence, quantity and risks of asbestos.
You can expect to pay anything from £50+ for the Surveyors materials and £200+ for an asbestos survey to be carried out.
Asbestos Encapsulation (Option 1)
Following a professional asbestos survey, you will receive a detailed report to inform you of where the asbestos is, what type and recommendations.
The asbestos report may highlight encapsulation as an option.
This is where a protective adhesive is applied to all asbestos materials, preventing harmful dust release.
The cost of Asbestos Encapsulation is around £8+ per square metre.
Asbestos Removal (Option 2)
The asbestos report may recommend that removal is required rather than encapsulation.
You need to be trained and competent when working with asbestos.
The approximate cost for removing asbestos here in the UK is around £50+ per square metre.
But it provides peace of mind knowing that the harmful material has been eradicated.
But it provides peace of mind knowing that the harmful material will be completely removed.
Re-boarding (Optional)
You may find that you are left with large areas needing re-boarding once the asbestos has been removed.
Basic re-boarding costs around £400+.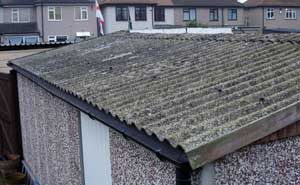 What is the average cost to remove asbestos?
According to the asbestos removal companies we work closely with in the UK, you can expect to pay the approximate cost of around £1000 or less for smaller areas.
For example, if you have a domestic water tank, this can be removed and disposed of for around £200.
However, larger areas such as an asbestos garage removal will cost considerably more, with costs of anything up to £2500+ in the UK.
These prices may seem high, but the price is definitely worth it when considering the effects on your family's health.
If you want to find out more about asbestos in the home and how to dispose of it, please visit the following link https://www.gov.uk/asbestos-in-home
Whether you need an asbestos management survey, or a refurbishment/ demolition survey, contact us on 0161 763 3727 or by visiting https://www.armco.org.uk/
Finally, for all your asbestos training needs call 0161 761 4424 or visit https://www.armcoasbestostraining.co.uk/to book an asbestos awareness training course.
---
How much does asbestos removal cost in the UK?
When it comes to maintaining the safety of homes and businesses in the UK, one of the questions we often encounter is, "How much does asbestos removal cost?" As a consultancy liaising closely with asbestos removal specialists, we're here to provide an in-depth look at the costs and processes involved, even though we don't handle the actual asbestos removal jobs ourselves.
Assessing Asbestos Removal Costs
The main determinant of asbestos removal costs in the UK is the amount of asbestos waste that needs to be removed. This article will guide you through the steps necessary to estimate these costs effectively, providing you with a comprehensive understanding of the process.
Identifying Asbestos
To tackle any asbestos issue, the first crucial step is identification. A professional asbestos surveyor is required for this task as they have the knowledge and skills to evaluate the presence, quantity, and risks of asbestos accurately, including dangerous forms such as blue asbestos and friable asbestos.
The asbestos survey, including the surveyor's materials, can cost anything from £200 and upwards. The survey report generated forms the basis for the subsequent steps in the process.
Asbestos Encapsulation: The First Option
Once the asbestos survey is complete, you'll receive a detailed report indicating the presence and type of asbestos, as well as recommended next steps. One of the possible solutions suggested may be asbestos encapsulation, where a protective adhesive is applied to asbestos materials to prevent the harmful release of dust.
Asbestos encapsulation, which costs around £8 or more per square metre, is typically recommended when dealing with non-friable asbestos or less dangerous forms like blue asbestos.
Asbestos Removal: The Second Option
In certain scenarios, particularly with friable asbestos, the report might advise that asbestos removal is necessary instead of encapsulation. Only trained and competent asbestos removal specialists or an asbestos removal company should undertake the task of removal, given the potential risks involved.
The cost to remove asbestos in the UK starts at approximately £50 per square metre. This might seem steep, but the cost is justified by the peace of mind you get knowing that the hazardous material has been entirely eliminated.
Re-boarding: An Additional Consideration
Post asbestos removal, you might discover that large areas require re-boarding. This step, while optional, is often necessary to restore the affected spaces to their original state. Basic re-boarding costs start at around £400, depending on the complexity and scale of the area.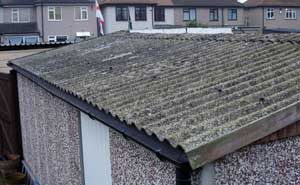 Understanding the Average Cost to Remove Asbestos
In general, the asbestos removal companies we partner with suggest that for smaller areas, you can expect to pay around £1000 or less. For instance, the removal and disposal of a domestic water tank can be achieved for about £200.
On the other hand, larger projects, such as removing an asbestos garage roof, can significantly increase costs, potentially reaching up to £2500 or more. While these costs may seem daunting, it is essential to remember that the health of your family and the safety of your property are priceless.
For more information about asbestos in homes and its correct disposal methods, visit the official UK government page here.
Reach Out to Us for Asbestos-Related Services
Whether you need an asbestos management survey or a refurbishment/demolition survey, don't hesitate to get in touch with us at 0161 763 3727 or visit our website.
For your asbestos training needs, call us at 0161 761 4424 or visit our training website to book an asbestos awareness training course.
In conclusion, understanding and managing asbestos is a critical responsibility for property owners. While the costs associated with asbestos removal can be significant, the health benefits and peace of mind it provides are invaluable. Don't hesitate to reach out to our partnered asbestos removal specialists for professional, competent help.
Published Aug 05, 2020