Last Updated on December 7, 2021 by neilhardy
How much does asbestos removal cost in the UK?
Our clients often ask us about the cost of asbestos removal in the UK.
Although we don't actually carry out asbestos removal ourselves, we work closely with a couple of specialist asbestos removal companies.
The major factor when it comes to the cost for removal of asbestos in the UK is in the quantity of asbestos to be removed.
There are some ways in which you can easily estimate the cost of  asbestos removal by following these steps:-
Identifying Asbestos
The 1st step you need to take is to identify whether or not there is actually any asbestos present.
For this, you will require a professional asbestos surveyor who will assess the presence, quantity and risks of asbestos.
You can expect to pay anything from £50+ for the Surveyors materials and £200+ for an asbestos survey to be carried out.
Asbestos Encapsulation (Option 1)
Following a professional asbestos survey, you will receive a detailed report to inform you of where the asbestos is, what type and recommendations.
The asbestos report may highlight encapsulation as an option.
This is where a protective adhesive is applied to all asbestos materials, preventing harmful dust release.
The cost of Asbestos Encapsulation is around £8+ per square metre.
Asbestos Removal (Option 2)
The asbestos report may recommend that asbestos removal is required rather than encapsulation.
You need to be trained and competent when working with asbestos.
The approximate cost for removing asbestos here in the UK is around £50+ per square metre.
But it provides peace of mind knowing that the harmful material has been eradicated.
But it provides peace of mind knowing that the harmful material will be completely removed.
Re-boarding (Optional)
You may find that you are left with large areas needing re-boarding once the asbestos has been removed.
Basic re-boarding costs around £400+.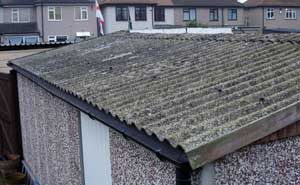 What is the average cost to remove asbestos?
According to the asbestos removal companies we work closely with in the UK, you can expect to pay the approximate cost of around £1000 or less for smaller areas.
For example, if you have a domestic water tank, this can be removed and disposed of for around £200.
However, larger areas such as an asbestos garage removal will cost considerably more, with costs of anything up to £2500+ in the UK.
These prices may seem high, but the price is definitely worth it when considering the effects on your family's health.
If you want to find out more about asbestos in the home and how to dispose of it, please visit the following link https://www.gov.uk/asbestos-in-home
Whether you need an asbestos management survey, or a refurbishment/ demolition survey, contact us on 0161 763 3727 or by visiting https://www.armco.org.uk/
Finally, for all your asbestos training needs call 0161 761 4424 or visit https://www.armcoasbestostraining.co.uk/to book an asbestos awareness training course.
---
Published Aug 05, 2020